Butterfly curves
Published on 5 November 2008
Taken from Clifford Pickover's book, Computers and the Imagination, is this experiment that creates butterfly like curves.
The formula is expressed in polar coordinates as:




By changing the A, B, a, b and c parameters you can get some nice results.
Click on the image below to give it a go.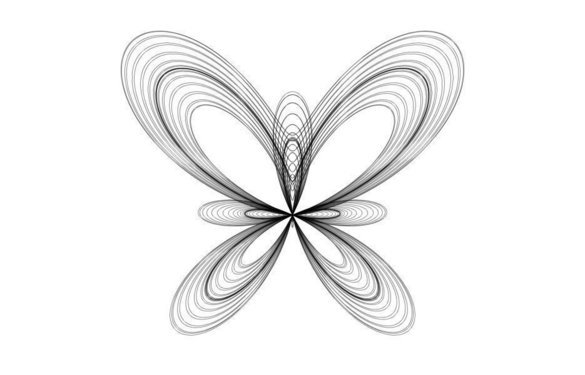 Last updated: 11 December 2008
9 Comments
Justin

commented at 14 December 2008 at 22:35

These are beautiful, and your site in general is fantastic. Keep up the good work! :)

richard mutter commented at 22 December 2008 at 02:43

wooww... very interesting nice & cool curve...!
it is possible to put this as a Plugins in AE..?
i'm a vj & really into making own footages..
i just find the Droste Effect and i just love it!
its so helpfull for me to edit my own photo & video!

thank you..
richard mutter

Try setting:
a=3.1
b=20 (max)
c=30
A=-0.8

It becomes such a cutie! =)

Raysun Goergen commented at 28 August 2009 at 20:37

This is awonderful project! Is there a way to save high quality (maybe vector) images of thebutterflies?

Amarja commented at 1 November 2009 at 21:33

I've tried to recreate this in Autocad but I've not been able to draw it with out tracing it, can I please please get a vector file of the butterfly curve or how to create it in Autocad, would really be appreciated.
Thank you:)

Tom

commented at 2 November 2009 at 21:49

Amarja: unfortunately it doesn't support vector output at the moment and I've not used Autocad so I don't know how you would go about generating the curves within it.

Ronald commented at 28 March 2010 at 21:36

Many points and lines, the curves would be a better option

Guillaume

commented at 13 November 2011 at 12:27

This is a really inspiring website. I am thinking of an idea to build a video with guilloché ( do you think illustrator and after effect is a good idea, since i dont know flash) and thats because of this site. If you want i can post a link of your site on my blog.

Jon

commented at 8 March 2012 at 07:42

Really elegant approach to developing some pretty images. Now I only need to plug in a variable field, and loop the graphing software in to my video compiler and make those wings flap!
Links & further reading
Related posts
A selection of subverted seasonal snowflakes
A Pixel Bender plugin for Photoshop, After Effects and Flash to create stereographic projections, or 'Little Planets'
A music video collaboration with 'The Formula'
An overview with links of my talk at the Apple Store in Glasgow.