Guilloché Patterns
Published on 10 October 2008
If you wanted to design your own bank notes or passport you might consider using a Guilloché pattern as one of your anti-counterfeiting measures.
I first heard about Guilloché patterns in a recent post over at the Ministry of Type blog run by Aegir Hallmundur. Guilloché machines (also known as geometric lathes) have been used since the 17th century by watchmakers and goldsmiths, such as Fabergè, for for ornamentation.
Using the set of Hypotrochoid equations Aegir describes I've built a little Flash app to experiment with the various parameters. Click the picture below to play.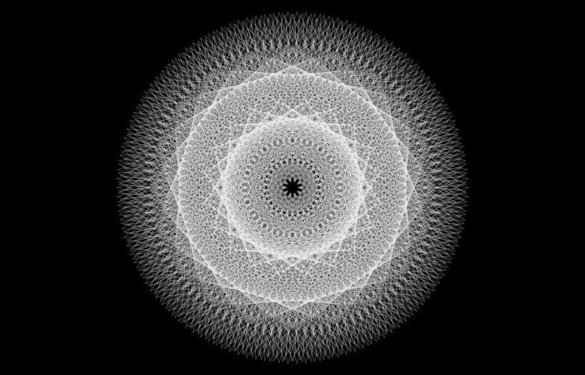 Download the AS3 source code and play with the Guilloché explorer.
Last updated: 20 October 2008
28 Comments
Tomek

commented at 13 October 2008 at 12:57

I will now try to generate some banknotes :)

Harish commented at 21 December 2008 at 09:29

This is real cool.
And... nice one, Tomek :)

Daniel Brooks commented at 22 December 2008 at 01:52

Please please please add a save to file function!!

Tom

commented at 22 December 2008 at 07:14

Daniel - if you press 's' you can save the image out as a JPEG.

Tim Poston commented at 2 January 2009 at 01:32

Remarkable control board!
Very stylish, but on this MacBook, dark grey on darkish grey is close to unreadable.

Which control is which?

Tom

commented at 2 January 2009 at 07:35

Thanks Tim. If you select white from the bottom colour picker then the text/background colour combination will reverse to make it more readable.

John Towsen commented at 6 January 2009 at 01:19

Is there (or will there be) an animatable version for After Effects?

Tom

commented at 6 January 2009 at 07:12

John, at the moment there isn't a version for After Effects I'm afraid.

"..your own bank notes or passport.." Yeah, or a "big check", or a post card as well..

vic commented at 6 February 2009 at 15:34

Fantastic work and excellent tool for creativity.

Well done!

All the very best

V

Nils

commented at 9 February 2009 at 10:42

That's really cool - a "save to svg" option would be awesome though.

KKLL00b commented at 17 February 2009 at 20:03

Reminds me of the old Hasbro Spirograph I used to play with as a youngster.

Nini commented at 31 March 2009 at 21:42

Wow, this is fatastic and got my creativity going immediately. There are so many combinations to try!
Are we allowed to use the generated pattern in pictures and such?

Tom

commented at 1 April 2009 at 07:27

Thanks Nini. Feel free to use the patterns however you like.

eka commented at 18 June 2009 at 03:46

wow, this is one cool apps!!
is there any possibilities to export it to vector format?
i'm building my own country from scratch now, need to make currency first, would be great if can make that with this pattern :D
can someone please tell me how to export it to vector pretty pleasee :D

Warren commented at 24 June 2009 at 05:30

All your apps are awesome. I was searching for some vector patterns for a background on a voucher I'm creating and found this.

BTW, choose the print function, print as PDF, open in Illustrator and you got vector.

Serge commented at 16 July 2009 at 01:25

Hi,
Try to use Cerberus - professional guilloche editor - with all build-in filters (www.guard-soft.com). All results in .ai format - make and print! :)
Best regards,
Serge

Mike commented at 10 August 2009 at 02:58

I have been looking for something like this for a long time! I love it. This app is extremely cool.

Great programmer!

Please add an option to save it to vector!

Jon commented at 17 February 2010 at 15:33

Wow...this is really, really cool. Thanks a ton for sharing.

gab commented at 26 April 2010 at 08:48

Huge !
any chance to be able to "save as vector" implemented ?
gab

CAS commented at 26 July 2010 at 15:15

To save you DO press the s key but you have to wait a few seconds for the image to be processed and then a regular dialogue box will come up asking whether you want to save or open etc....... you just need to be patient.

By the way, I would dearly love this page to be able to create borders. The Cerberus program costs over $2,000 so it is way out of my league to do something like that when it is only going to be used for a certificate. But thanks for this website. It is a godsend.

John

commented at 27 July 2010 at 01:20

That was fun! Thanks. Excellent programming. I used to love the old Spirograph toys as a kid. It would be extra cool if we could save a series of changes and make an animation.

When I was a kid in primary school.

The cute toy was really popular.

I had one but was stolen.

Now this is what I call brilliant programming! It was quite fun tweaking and generating custom-designed pattern. I will surely use this app in the near future! Site bookmarked...

I've created an iPhone/iPad app, Vectoria, which enables you to create these patterns using Touch Turtle Graphics, and to then edit them in real time. The effect is mesmerising and quite addictive!

This is really amazing! I'm a designer can see this being a great inspirational tool - such incredible shapes are born as you experiment.

It would be great to encode the values in the URL like so:

http://www.subblue.com/projects/guilloches?scale=2.5&steps=710&multiplier=1&...

This would be easier to implement than a lot of other save-techniques and would also make it very easy to share patterns with others.

It's great that you made the source available! Maybe I'll mess around with it.

Thanks!
Nicky

Hi Tom,
I ported your guilloche generator over to JS / HTML5 and added vector SVG output and local storage saving and sharing. Also got it to work nice on the iPad.

http://blackholedesign.com/vectorizer

Thanks for the inspiration! Your work is incredible.
I plan on open sourcing all the code on gitHub as soon as I get it cleaned up a bit.

thanks,
Nick Kircos

azetina commented at 6 March 2012 at 20:21

I was wondering if this can be done in TikZ (graphics package for Latex) with the same parameters that you have set in the flash doc.
Links & further reading
Excentro

Commercial software for those who want to get serious about their Guillochés.
Related posts
A selection of subverted seasonal snowflakes
A Pixel Bender plugin for Photoshop, After Effects and Flash to create stereographic projections, or 'Little Planets'
A music video collaboration with 'The Formula'
An overview with links of my talk at the Apple Store in Glasgow.