Gumowski-Mira Patterns
Published on 25 September 2008
Named after two physisists the Gumowski-Mira transform was developed to calculate the trajectories of sub-atomic particles.

Its nonlinear nature creates a wide variety of organic looking images ranging from galaxies to feathers and marine-like creatures to the cross-section of fruit.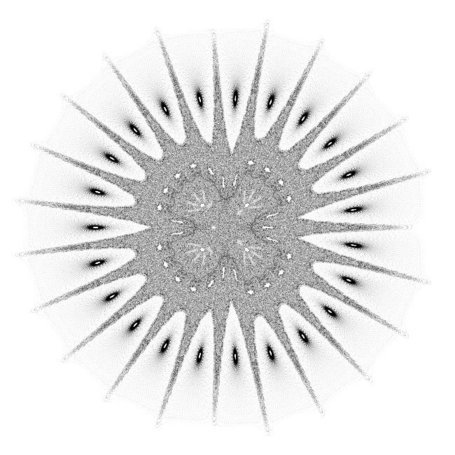 Horizontal drag changes µ. Vertical drag changes the zoom.
Fine tune with the arrow keys. Render more iterations by pressing space.
The α value is tweaked by shift + vertical drag.
Last updated: 5 October 2008
6 Comments
Shapevent

commented at 13 October 2008 at 16:46

This is superb and addictive to play with. Going to look at the source now :)

Can make it look like 4 duck legs, or like batoidea.. =)

Hr. Maier commented at 6 February 2009 at 12:52

Nice effect. I only have one Problem: I've downloaded your source code. While testing it in Flash CS 3 I get the following error: 1120 Access of undefined property ColorUtil.

I suppose its because there is no import for any kind of ColorUtil class. Searching for a corresponding class on the internet wont bring me any results, with a related class having the addPixel32 method.

Any held would be greatly appreciated.

Tom

commented at 6 February 2009 at 19:10

Hr. Maier the ColorUtil class file was missing. I've have added back into the archive, cheers.

Hr. Maier commented at 7 February 2009 at 13:13

Thank you very much for your fast help. Now all is working perfectly. This is a really wonderful algorithm - and your changes even add more diversity to it. Great job, Tom!

pvdn

commented at 13 November 2010 at 19:23

very nice, this post got me inspired to create my own version: http://petervandernoord.nl/blog/2010/11/the-strange-beauty-of-the-gumowski-mira-attractor/
Links & further reading
Related posts
A series of looping animations from an installation at L'Eclaireur in Paris.
An experiment in fractal structures.
A swim round the Mandelbulb reef
A Pixel Bender plugin for Photoshop, After Effects and Flash to create stereographic projections, or 'Little Planets'