A series of subdivisions
Published on 7 November 2010
An experiment in subdividing fractal structures.

Street view: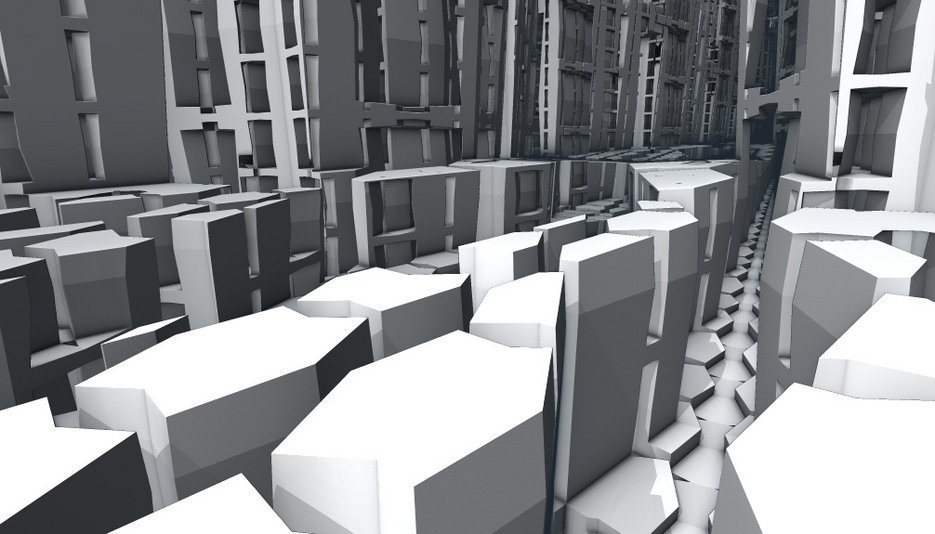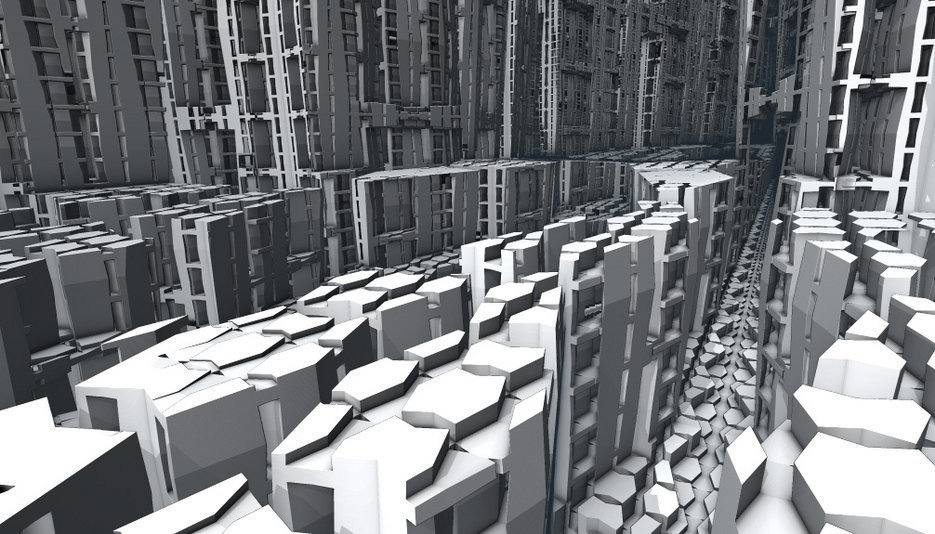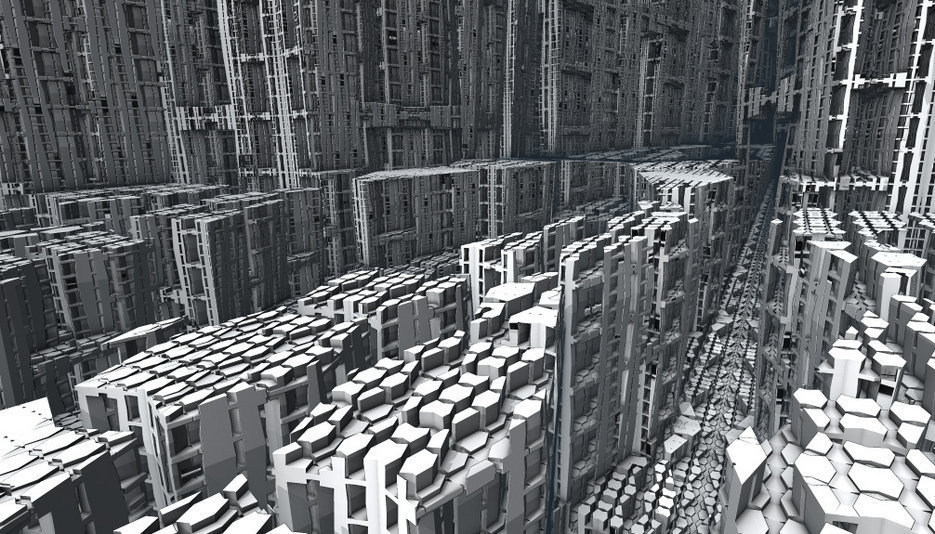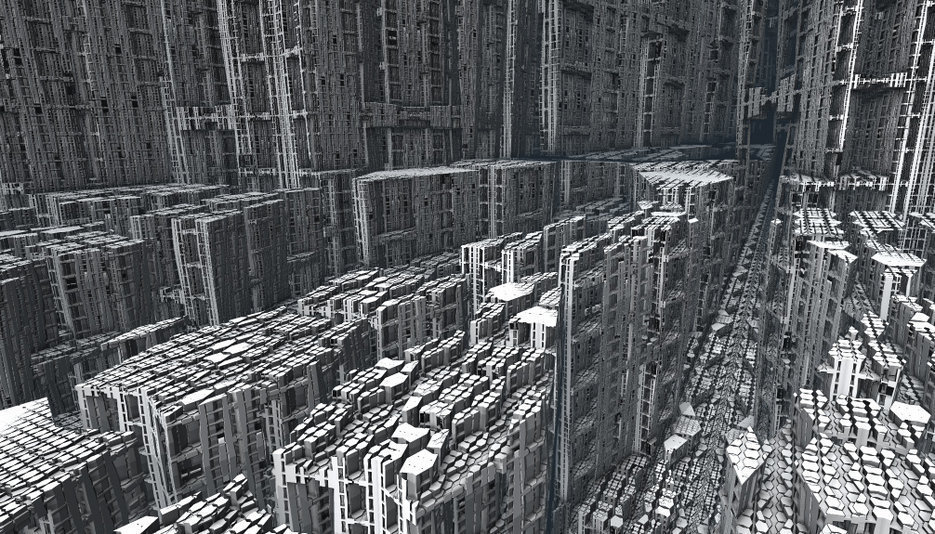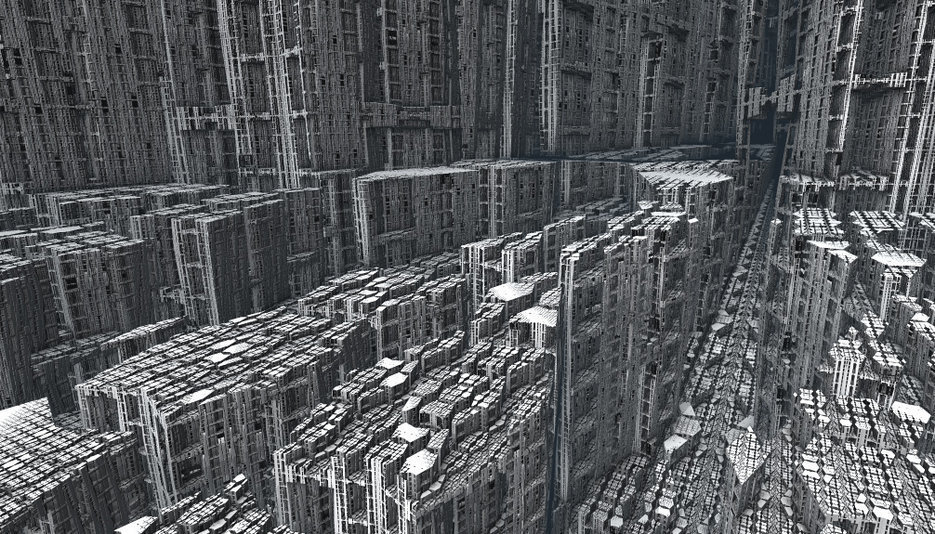 Fractal flats: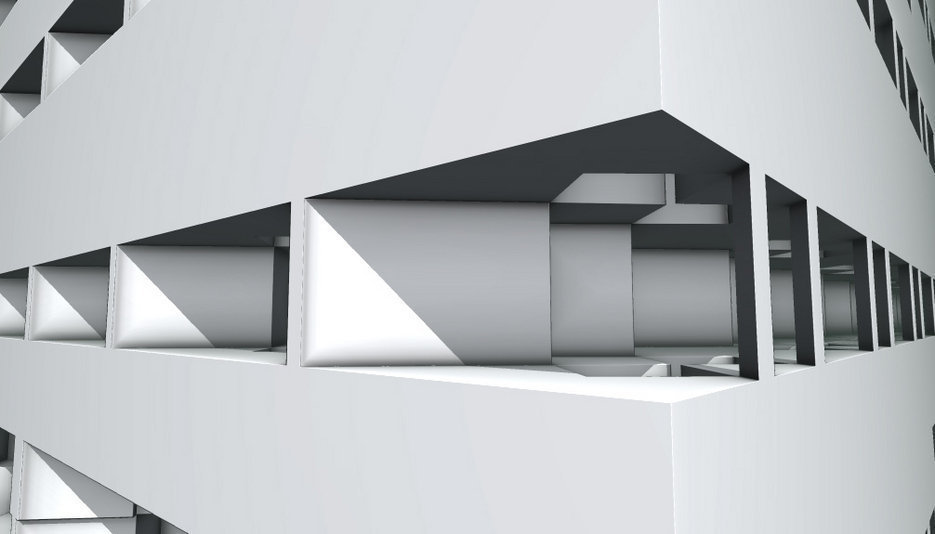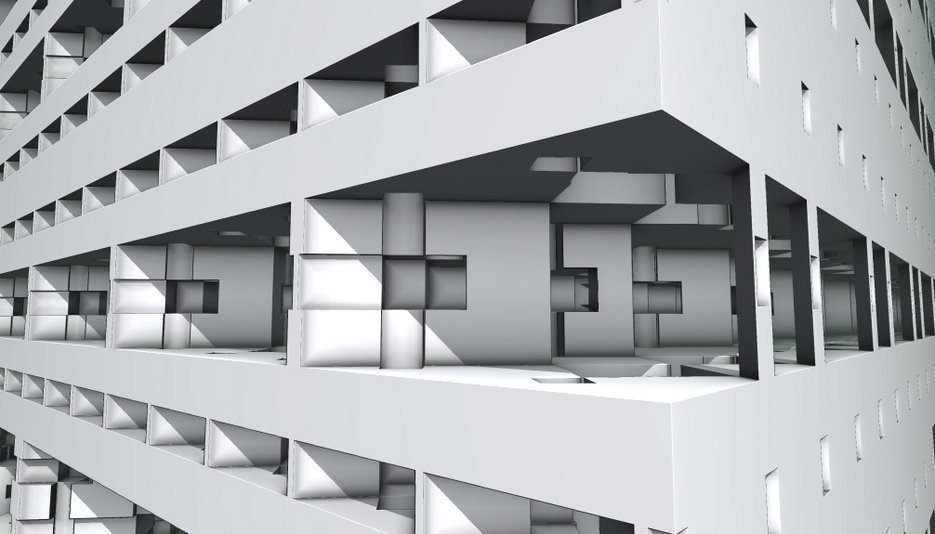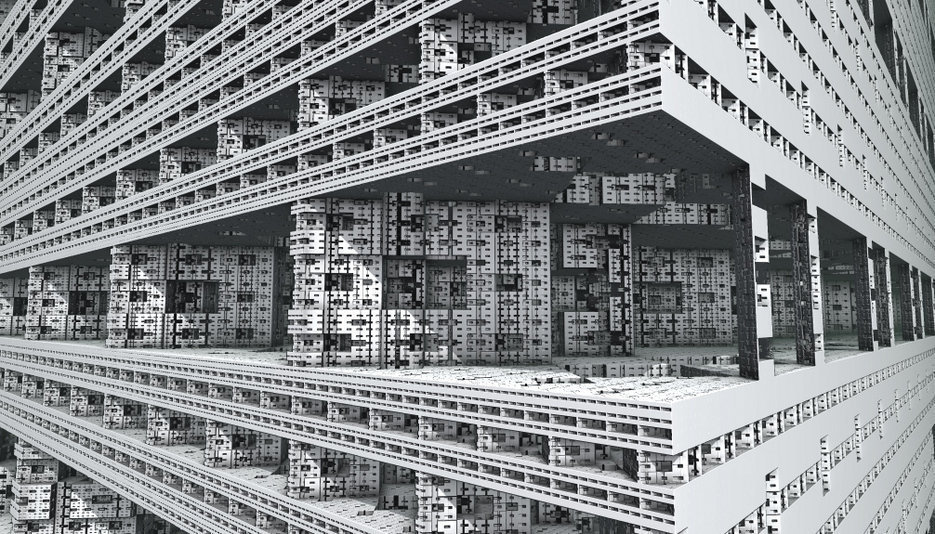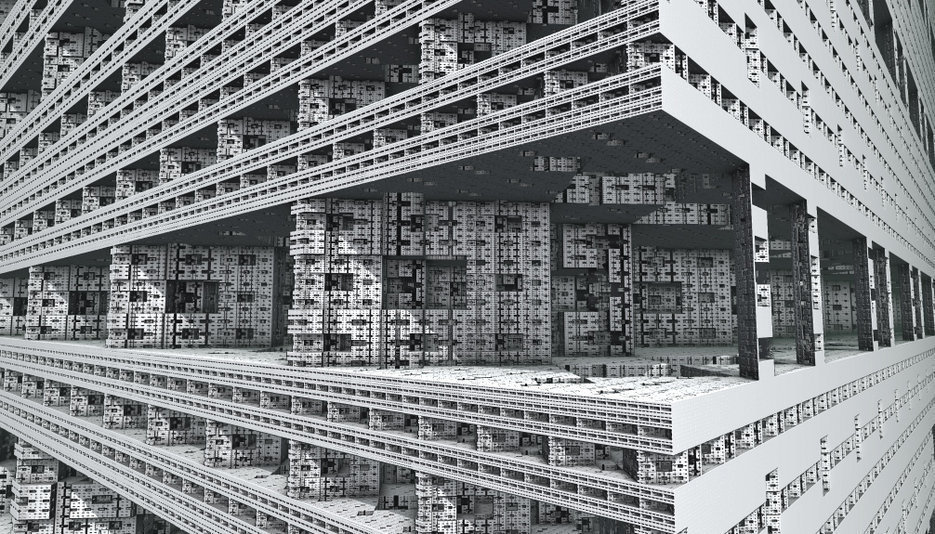 The volume between intersecting bubbles: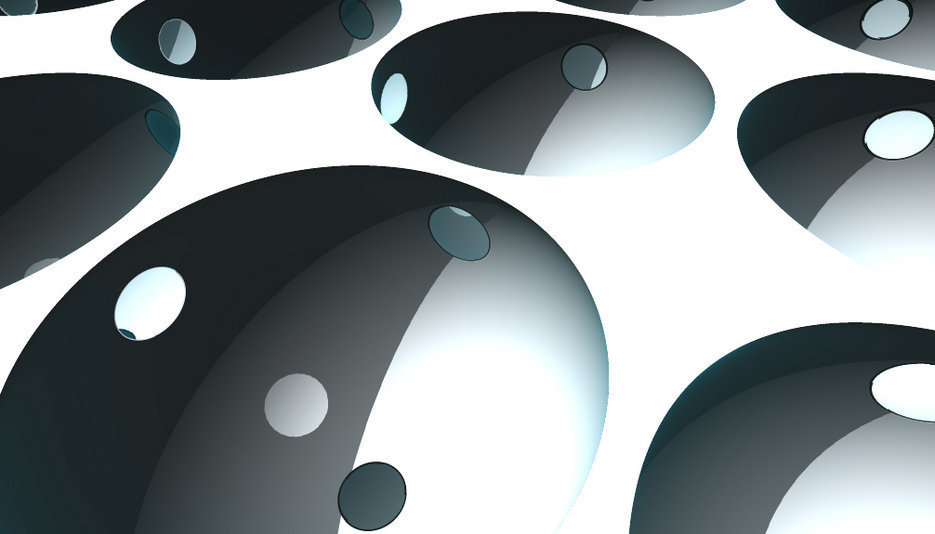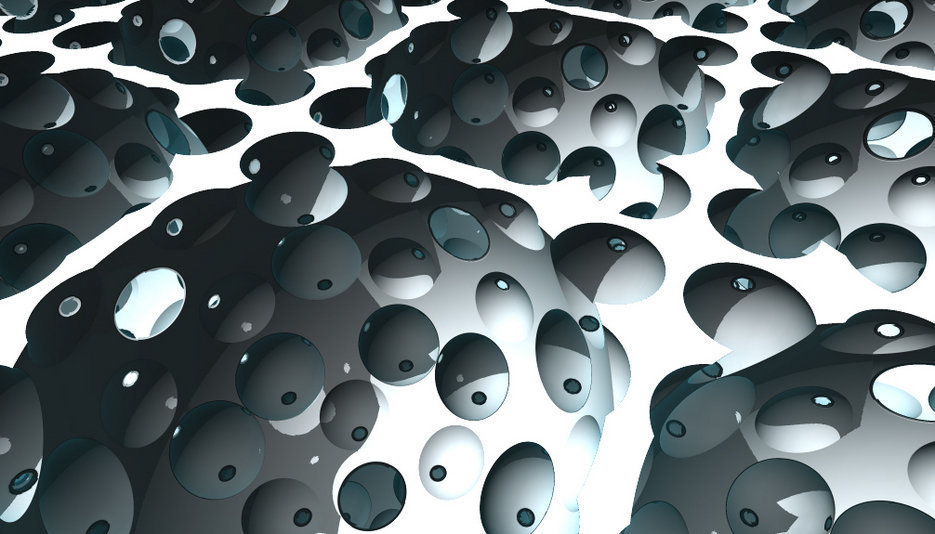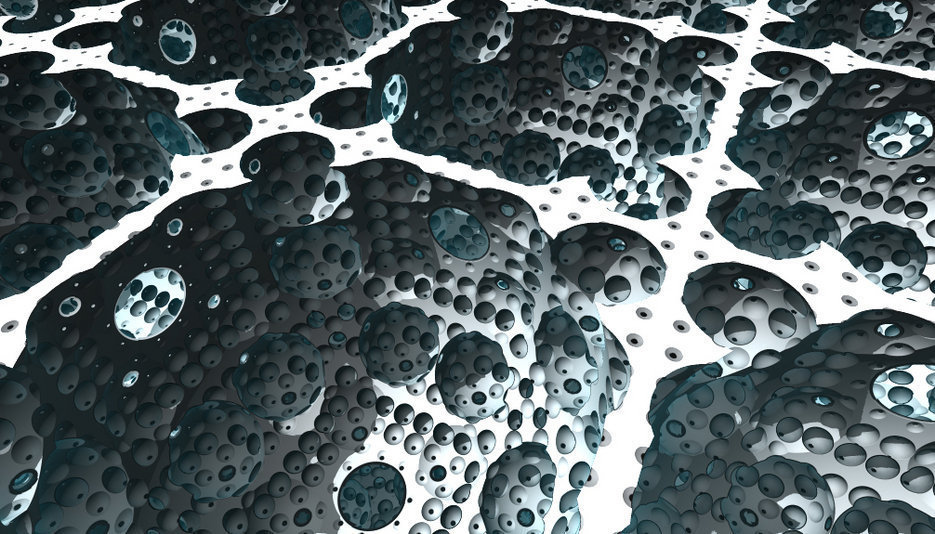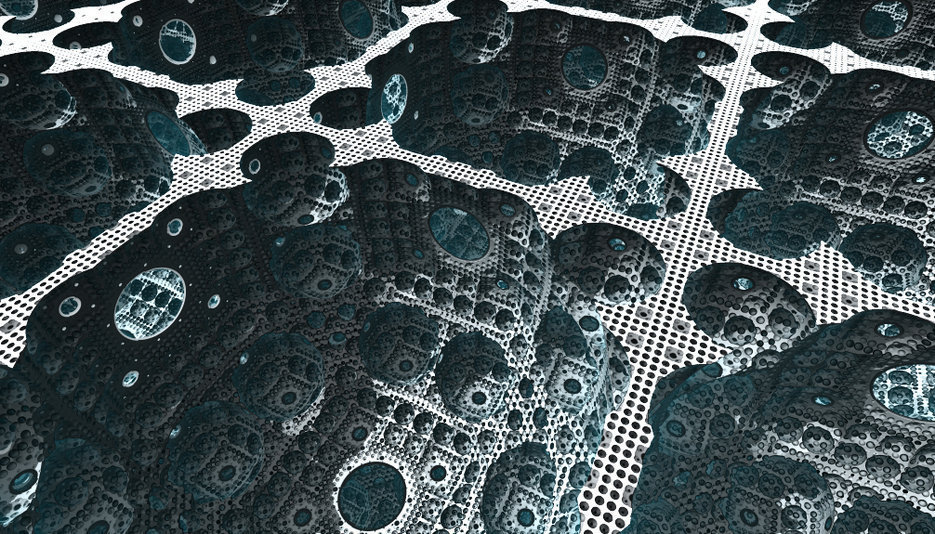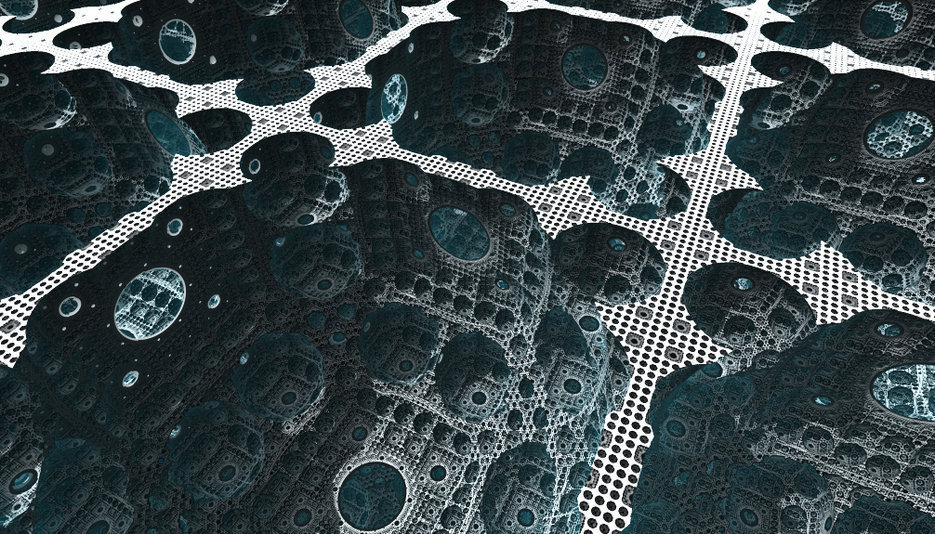 Last updated: 7 November 2010
19 Comments
simo

commented at 7 November 2010 at 19:19

You create beautiful worlds Tom. Lovely.

dvb

commented at 7 November 2010 at 19:20

Hot, hot, hot. Please, a few notes about what we're seeing, and how you made it!

Rahul commented at 7 November 2010 at 19:32

I got an unsettling feeling of vertigo as the scene seemed to change scale from a room to a building to a city block to a city to a sci-fi megalopolis without the camera ever moving. Amazing.

Awesome!

How are these rendered btw?

Tom

commented at 7 November 2010 at 21:04

Cheers folks.

The images are rendered on the GPU using another Pixel Bender filter I'm working on. The square images are based on a Menger sponge with rotation and offsets applied at each iteration, which is why the structure divides and changes on each iteration. Creates a nice 'greeble' effect :-)

The last sequence uses a similar approach to the Menger sponge rendering, but instead of cutting out cubes it removes spherical volumes, in effect leaving the area between spheres. This style of fractal was first demonstrated here: http://www.fractalforums.com/3d-fractal-generation/revenge-of-the-half-eaten-menger-sponge/

George

commented at 8 November 2010 at 12:43

Wow. Hyper le Corbusier. Great work.

dvb

commented at 9 November 2010 at 04:28

It's just spectacular. I want to crawl right in. Glorious.

Hetzen

commented at 10 November 2010 at 11:54

Very interesting Tom. I've been playing around with Terragen to try and create regular city structures in natural fractal landscapes. This has given me some good ideas. Thanks for sharing.

Sub Vet commented at 12 November 2010 at 03:00

Amazing use of math, architecture, artistic ability and more. As an engineer I see the ability to minimize cost by using modules, as well as a hell of a wow factor.

Beautiful work Tom. I'm always impressed with what you create. Keep it up.

Rosie commented at 14 November 2010 at 08:57

Wow, das ist der helle Wahnsinn,
Bin echt begeistert!
LG

annelik

commented at 16 November 2010 at 19:02

It's just spectacular. I want to crawl right in. Glorious.

This is great !

Navarro Parker commented at 21 January 2011 at 22:27

This would make a fantastic greeble plug-in for Cinema 4D!

Atom

commented at 4 April 2011 at 14:21

Mindblowing. Respekt for this work.

Amazing. Looks very futuristic, I see a problem with home address though, can just imaging using md5 hashes as the addresses... :)

Frank commented at 21 September 2012 at 00:19

Desktop backgroung found for the month!

randomjk commented at 9 June 2013 at 18:36

This is where it's at

Jim commented at 1 July 2013 at 01:27

Reminds me of M.C. Escher. He probably would have loved it. Thanks.
Related posts
The project I've been working on for the last two years...
A selection of subverted seasonal snowflakes
A series of looping animations from an installation at L'Eclaireur in Paris.
A journey into a Fabergé inspired world.