Surface Detail
Published on 16 January 2011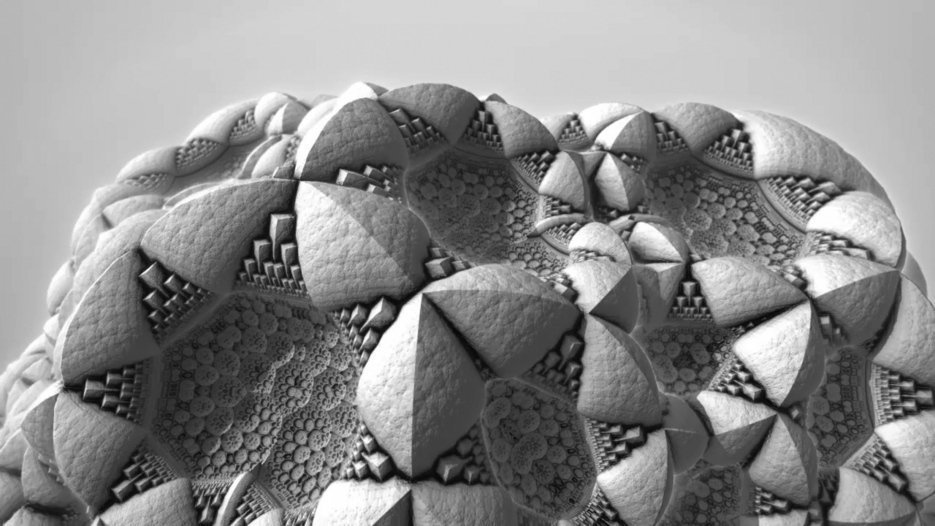 An evolving landscape of a 3D fractal surface.
I'm currently working on a WebGL 3D fractal explorer that will let you explore structures like this in real time. Stay tuned!
Last updated: 17 January 2011
47 Comments
Paul commented at 16 January 2011 at 20:26

Lovely

Tomek

commented at 16 January 2011 at 22:33

Incredible! Each shape looks totally unique – is it though? Or you're looping some params?

Fascinating!

This is really excellent. I'm looking forward to the WebGL version. Thanks for sharing!

Incredible...i almost want it to slow down in some areas as the textures and patterns are so captivating.

won commented at 19 January 2011 at 16:51

wow

wow

wow

won commented at 19 January 2011 at 16:53

can't wait to play with this in real time

TOM commented at 19 January 2011 at 18:08

Amazing work. Hypnotic and spiritual. Music blends well with the motion and transitions of the objects.
Very inspirational work.

Magnus commented at 21 January 2011 at 14:58

Wow, truly amazing. I feel so relaxed and at peace when watching this. Imagination really kicks into high gear while watching. Please make a longer one. :

ladynamo commented at 21 January 2011 at 19:41

beautiful and wildly haunting at same time....echos of total cellular invasion.

steven commented at 21 January 2011 at 22:48

One of the most incredible and beautiful pieces of film I've ever seen. Congratulations on your brilliant work.
I'd be very interested to know if it would be possible to export these surfaces as some sort of 3d file?

KFKS

commented at 22 January 2011 at 01:56

Totally awesome! thanks man!

aliison commented at 22 January 2011 at 02:14

very cool! can you tell me where the music in the background is from?

Thanks

KFKS

commented at 22 January 2011 at 02:24

music similar to Dead can dance.
what the name of this track?

FracturedArt commented at 22 January 2011 at 03:18

Math made beautiful. I love it. Very Escheresque. I am a math teacher and will use your program to show others that math truly is beauty.

James commented at 22 January 2011 at 04:55

What is the song title in the video?

Tom

commented at 22 January 2011 at 09:03

Thanks for the feedback folks! The soundtrack is an original piece I put together for the video. I've put it up on Sound Cloud: http://soundcloud.com/subblue/surface-detail

Tamoko commented at 22 January 2011 at 14:49

Wow, that was so hypnotic. I can't wait for the WebGL fractal explorer. This would make a great screensaver or desktop background.

kri commented at 23 January 2011 at 10:13

Oooh, this was really nice, made me entierly relaxed.
The mind didn't stray away for the whole 3 minutes.
I now feel rejuvenated and calm, thank you very much for this amazing video!

Adam commented at 24 January 2011 at 05:51

That's what it looks like when you close your eyes on acid!!

Wow, can't say much more than that. I have temporarily forgotten how to use my...

its unique and beautiful

Filip commented at 26 January 2011 at 19:34

This is the most interesting/beautiful piece I ever saw. I'm blown away! I imagine there is a star out in space looking just like this, constantly in surface transition of this type. Amazing.

You should do something visual to Autechre music.

Greetings from Sweden.

MF Harris

commented at 26 January 2011 at 23:40

Just discovered your work. I'll be mesmerized all night based on the first two I've viewed. Thanks. Takes me back (to when I first saw fractals) and forward at the same time! Keep it up Tom, wonderful imagery and the music is icing.

Sean

commented at 27 January 2011 at 18:27

I'd love to be notified when you release the engine. I'm so loving your work. I'd like to use it as b-roll for a music vid i'm working on and would love to credit you as well.

Fractal Lover commented at 31 January 2011 at 00:58

Stunning. Breathtaking. Hypnotizing. Your work exists at the event horizon of this centuries major art paradigms. Blending technology with creativity.

I simply love fractals. They're like a mathematical expression of chaos. How long did it take to create this sequence?

jag88 commented at 31 January 2011 at 05:25

very nice! can you provide any details on the math behind this?

This is utterly sublime, and that's about the highest praise I can give anything. I've always found fractal artwork capable of tickling the subconscious mind in inexplicable ways, and this is especially true of more recent 3D imagery.

I've bookmarked your website. You do incredibly beautiful work.

njanicek commented at 5 February 2011 at 02:53

Id call that 4D art...very cool!!

Charly_MNDZ commented at 8 February 2011 at 17:06

Maravilloso, simplemente hermoso

Peter Keverne commented at 13 February 2011 at 11:21

Really great piece of work - the music is just right. I thoroughly enjoyed it. Are you going one step furth and colourise it?

Really love your work!! Have linked to this vid in my recent article of the fractal dimension on stocks - http://etfhq.com/blog/2011/02/12/fractal-dimension/

Have you ever though of creating a version that you can plug into iTunes to produce visualizations based on the music? This would be amazing to play on a big screen TV at parties and I am sure would sell well to help fund your research.

Cheers
Derry

Adiel

commented at 15 February 2011 at 16:26

Wow, that was entrancing. That would be amazing to have as a background during a speech on how the Earth's systems evolve (just not as quickly!). To me it looks like billions of years of evolution on hyper-speed.

Carlos

commented at 19 February 2011 at 13:25

I watched the whole video and I have to admit that I've never seen anything like this. Although I don't know anything about the WebGL 3D fractal explorer that is mentioned above, I'm excited to see how it's going to evolve even further (and may I say that it could be awesome if I knew to create a similar video, but I just have no idea how to produce such a cool video). And yes, I also think that the music is just right.

insilico commented at 21 February 2011 at 11:09

crazy, its like an acid trip!

Peter commented at 24 February 2011 at 05:07

I want to watch this 20 times slower, in color, on an IMAX screen... But it's still pretty sweet.

tdhooper

commented at 25 February 2011 at 02:53

I just discovered Fragmentarium http://syntopia.github.com/Fragmentarium/ which reminded me of this, it looks like it allows similar exploration.

Pablo commented at 8 March 2011 at 12:26

Incredible! Thanks!!

louis commented at 8 March 2011 at 20:54

Tom, Keep it up man. Glad to know some museum has this caliber of staff. Could you be a little geeky and give some info on what we are seeing. We are looking at a projection of a n-dimensional *** as we move along the the following parameters for *** that kind of thing?

Ntx commented at 8 March 2011 at 22:12

I love it.

Magic Mushrooms or LSD + one hour of this = Fantasy

Rune commented at 16 March 2011 at 23:46

Awesome work! How long did it take to render? What is the music piece called?

Matt commented at 17 March 2011 at 09:53

Art vs Science! Beautiful work, I could watch this for hours. I can't wait to have a play with it.

SoreThumb

commented at 17 March 2011 at 15:12

This video let my brain take a break while it went on a ride.

It was awesome. Thanks for the vacation. :)

For more information about fractals, see: httP://www.fractal.org

Will commented at 25 April 2011 at 07:29

This is incredible. Also, fantastic work with Fractal Lab.
Short inspirational fractal story:
I hated math when I was in high school. Then, soon before I went to college, I somehow picked up Chaos, by James Gleick, and discovered fractals. Now I'm getting my degree in mathematics and computer science.
Keep up the awesome work!

Chrichy

commented at 10 June 2011 at 18:14

Intense!

Gokhan commented at 27 August 2012 at 18:56

Hey there, I'm blown away by the pictures and animations on your web site! I've had a fascination with (3D!) fractals since high school (circa 1993). Love to see them rendered so well and so esthetically, which I couldn't do at the time. Fantastic job! Thanks for sharing.
Related posts
The project I've been working on for the last two years...
A selection of subverted seasonal snowflakes
A series of looping animations from an installation at L'Eclaireur in Paris.
A journey into a Fabergé inspired world.